Whether you're a law firm, a university, an annual conference, or a medical provider… Trystan is excited to partner with you! Scroll down to learn more about hiring Trystan to create a keynote or provide consulting services, or to learn more about his existing online trainings for providers.
Based on your audience, Trystan will curate elements of his own trans coming-out story, his adoptive parenting journey, his pregnancy adventure, and how he survived all of it. Whether you're hoping to create an event that offers CME or CLE credits, want to sell tickets or raise money for your organization, Trystan will work with you to build an event that will keep your attendees on the edge of their seats.
Past keynote audiences include World Domination Summit, Out and Equal Global Summit, Postpartum Support International's annual convening, and more!
Trystan creates powerful multimedia keynote addresses for university audiences all over the country. Join Columbia University, Agnes Scott College, Monmouth University, Portland City College, and many more by bringing Trystan's incredible personal story to your campus today!
Here's what past campus partners have said about Trystan's work:
"Trystan is an absolutely inspiring facilitator, and brought incomparable energy to a room filled with future clinicians and medical students. From the very first contact Trystan facilitated a seamless organization process, and was nothing but timely and amenable in all communications between the collective of Columbia University staff, and students that came together in the planning of our event "The Pregnant Man: Living at the Intersection of Trans Identities and Reproductive Justice." Students, faculty, as well as community members in attendance were completely captivated by Trystan's humor, sensitivity and profound knowledge on the subject of sensitivity in LGBTQ health, and when discussing his experiences when encountering healthcare professionals during his pregnancy. He imparted imperative wisdom on all of us, and left us enthused to continue our education, as well as continue to push for the inclusion of sensitive, affirmative and evidence based care for the LGBTQ and particularly trans community."
"I could not recommend Trystan more highly. Trystan came to our university this spring. He went above and beyond to meet all of our students, spending time with them individually and being his true self, authentic, genuine, vulnerable, truthful and kind. Trystan also spoke more formally in front of an audience of over 100 people. For over 90 minutes, he had each participant at the edge of their seat, attentive, engaged and enraptured. The audience laughed and cried and loved everything about Trystan and his story. The feedback forms were overwhelmingly favorable, several saying Trystan was the best speaker they had seen on campus. I am so thankful to Trystan for coming and speaking with us at Monmouth. We are hoping he can come back again soon."
Trystan has extensive experience partnering with organizations to create meaningful marketing panels, write content for blogs or other written materials, edit paperwork with an eye towards inclusion, and more!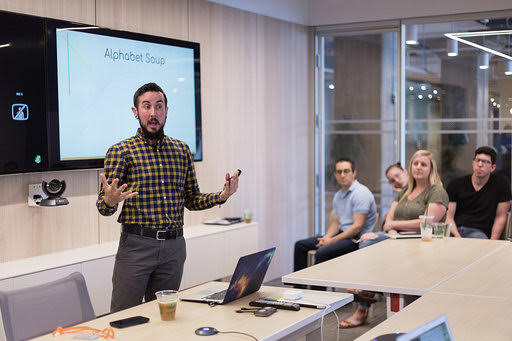 Trans 101: Beyond the basics. An intro to common terms and definitions used within the trans community. This session includes Trystan's three-step process for learning gender-neutral pronouns and is tailored for each organization's specific needs.
This training has been presented in the following formats:
- Emerging Legal Issues for the Trans Community, Lane Powell Law Firm
- Inclusive Classroom Spaces, Agnes Scott College
- Beyond Pink and Blue: The Gender Revolution, Lake Oswego High School
Suitable for any nonprofit, religious organization, small business, major corporation, or government entity.
Every quarter, Trystan partners with Cornerstone Doula Trainings to offer a three-hour intensive on transgender fertility, pregnancy, and childbirth. This interactive, multimedia workshop is for doulas, birth keepers, midwives, and other birthworkers. Trystan will provide evidence-based information on the full spectrum of trans fertility, including how to support trans people who haven't medically transitioned, what the effects are of medical transition on fertility and nursing, postpartum considerations for trans gestational parents... and more. Trystan will also be bringing his personal experience as a trans gestational parent to the conversation, and includes diverse voices so you can learn how to understand, welcome, and support trans and gender non-conforming pregnant people in your practice.
Here's what past attendees had to say about this session:
"All of the laughter. What a great speaker! I loved that Trystan was so approachable, humble, honest, and inclusive. He did a great job of being non judgmental. I was truly impressed with his vulnerability and kindness, paired with his expansive knowledge."
Head to Cornerstone Doula Trainings for information on the next session!
On behalf of Family Equality, Trystan has created online modules specifically designed to support fertility providers who want to learn how to understand, support, and welcome LGBTQ+ prospective parents.
If you work in the field of fertility and are interested in building up your practice's LGBTQ+ competency, head over to Open Door Professional Training Program to gain critical insight into the LGBTQ+ community's specific and unique needs.
Join professionals from CCRM, ACRM, RMA IVI, Carrot Fertility, and dozens more esteemed fertility organizations around the country— become an Open Door provider now!